EXTRA'S VALENTINO
"KENNY" Reg.number: S62855/2005
*2005-09-16
HD A
MH
(För mer resultat se SKK Hunddata)
Höjd/Vikt: 48,5cm/21kg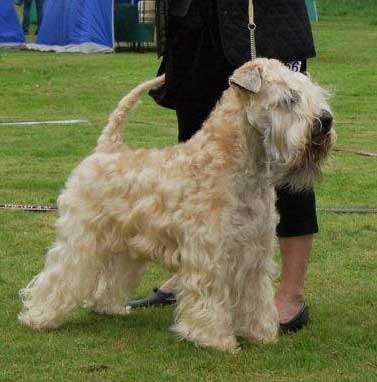 SHOW RESULTS
C.I.B WW-11
SEUCH DKUCH NOUCH FIUCH NORDCH
VDHCH DECH DKV-10 KBHV-10 EVS-14 DKVV-14 DTKVCH

World Winner 2011
Top winning show wheaten male in Sweden 2011
Dansk Kennel klubbs rasvinnare 2010
Danish Kennel clubs breed winner 2010
2006:
BIR/BOB Valp/Puppy Hässleholm
BOS/BIM Junior class SWTK Tånga Hed
2nd best dog, CAC Intermediate class, DKK International Ballerup

2007:
R-CACIB VDH International Neumunster
BIR/CACIB/CAC DKK International Hårlev
CERT/CAC, BIM/BOS Intermediate class SWTK Syd Ronneby
CACIB/CAC/DKUCH DKK International Bröndby/Danish Champion
2008:
2nd best dog My Dog in Gothenborg CACIB/CAC/SUCH Swedish Champion
BOS/CACIB VDH International Berlin, Germany
BOS KfT Berlin, Germany
BOB, BIS-3 Baltic Terrier Show Rostock, Germany
BOB, BIS-2 Baltic Terrier Show Rostock, Germany
BOB KfT Neumunster
BOB/CACIB VDH International Neumunster
2nd best dog SKK Ronneby
BIM/BOS SWTK Special Öland
R-CACIB 2nd best dog SKK Int Sofiero
R-CACIB 2nd best dog DKK Int Ballerup
BOS/CACIB VDH International Rostock
Deutscher Champion/KfT DECH
German Champion VDHCH
(International Champion INTUCH)
2009:
BIM/BOS Champion 2 best dog SWTK Hörby
3rd best dog SKK Int Ronneby
4th best dog SKK Nat Askersund
4th best dog SvTeK Tånga Hed
BIR/BOB BIG-R SKK Nat Böda Sand
BIM/BOS Sofiero Nat
International Champion C.I.B
5th Best dog SKK Int Stora Stockholm
2nd Top winning Wheaten male/dog in Sweden
2:a Utställningswheaten hanar i Sverige
2010:
BIS/BOB SWTK Öst Påryd, Swe
BIR/BOB SKK Nat Larv, Swe
BIR/BOB BIS-R/BIG-R SvTeK Tånga Hed, Swe
BIR/BOB SvTeK Hörby, Swe
4th best dog SWTK Syd, Swe
4th best dog Triple Dog Show Jönköping
3rd best dog Triple Dog Show Jönköping
3pl, EXC, championclass(16) WDS
4th best dog Terrier Special DTK, Hedenstedt, Denmark
BIR/BOB CACIB Tvååker, SKK Int, Sweden
BOB, Green Star, Bangor&Nothdown, Ireland
BIR/BOB CACIB Sofiero, Sweden
2nd best dog SvTeK Bjuv, Sweden
BIR/BOB CACIB KBHV-10 (Copenhagen Winner), DKK Ballerup, Denmark
BIR/BOB CACIB DKV-10(Danish Winner), DKK Herning, Denmark
BOB Winner Danish Kennel club/Dansk kennel klubbs ras vinnare
3rd Top winning Wheaten male/dog in Sweden
3:a Utställningswheaten hanar i Sverige
2011:
BIS/BOB and BIS Champion class SWTK Väst
BIS/BOB and BIS Champion class SWTK Syd
French Champion ship, CAC, WDS Paris
World Winner 2011, BOB at World Dogshow Paris
3rd best dog Res-CACIB, Tvååker Int Sweden
2nd best male, Tvååker Nat, Sweden
BIS/BOB and BIS Champion class SWTK Bergslagen
3rd best dog SKK Int Köping
3rd best dog SKK Int Ronneby
2nd best male Cert/CAC new title NO UCH and NORD CH, Oslo Int Norway
BIM/BOS Best male SvTeK Bjuv
4th best male Svensk Terrierderby, Jönköping, Swe
2nd best male CAC, res-CACIB Helsinki winner, Finland
2nd best male, res-CACIB Finnish winner, Finland
Nb 1 Top winning Wheaten male/dog in Sweden
1:a Utställningswheaten hanar i Sverige
2014:
BOB Veteran, 2nd best male MyDog1
BOB Veteran, BOS MyDog2
BOS Veteran and 2:nd best male Malmö Int
BOB Veteran EuropaVeteranSieger & BIS-3 Veteran, Dortmund
BOB Veteran International, Dortmund
Deutcher Veteran Champion(VDH) (Subject to confirmation)
BOS Veteran Hörby, Sweden
4th best male BOS Veteran Hässleholm, Sweden
BIS Veteran, Best male and BOS/BIS-2 SWTK Club show, Hörby
4th best dog, best veteran National Borås
2nd best male and best veteran Ronneby International
3rd best male BOB veteran Int Triple dogshow, Jönköping
4th best male and BOS Veteran World Terrier Show, Vantaa, Finland
Reserve World-Winner Veteran WDS Helsinki, Finland
BOB Veteran & BIS Veteran Terrier Clubshow, TångaHed
3rd best male and Danish Veteran Winner 2014, Denmark
2015:
2x 4th best male, 3x BOB Veteran, BIS3 & BIS4 Veteran, Svendborg, DK
(Danish Terrier Club Veteran Champion)
PEDIGREE
Dogside´s Key To Kilmore

Feanaro Kilbarry Cagar Gaoth

Feanaro Eireann Kilmurvey

Feanaro Geall Madra Maureen

CH Sionainn O´Kyra

CH Outshine Owein De Morrigan

Sionainn Maxime Maurel

Extra's Roxanne

CH Dinran Dewi De Cloudesley

CH Mo Grad Tu Calvin Klein

Aideen Alice De Cloudesley

CH Extra´s Kookai

CH Ballysax Bruno

CH Extra´s Call Me Cookie
For abroad breeding request, Kenny's semen are collected.
Read some judge's report about Kenny.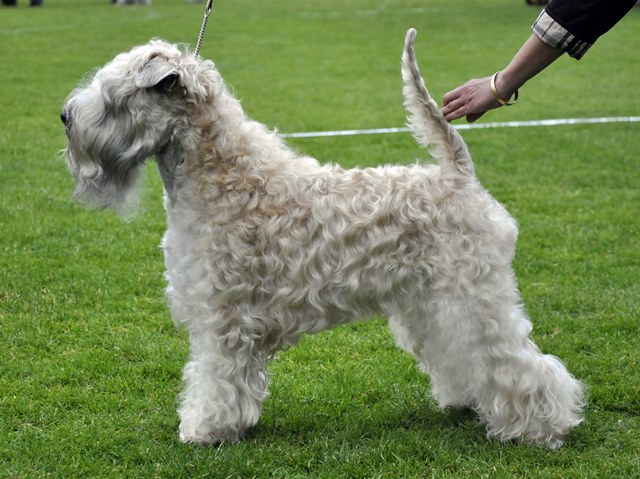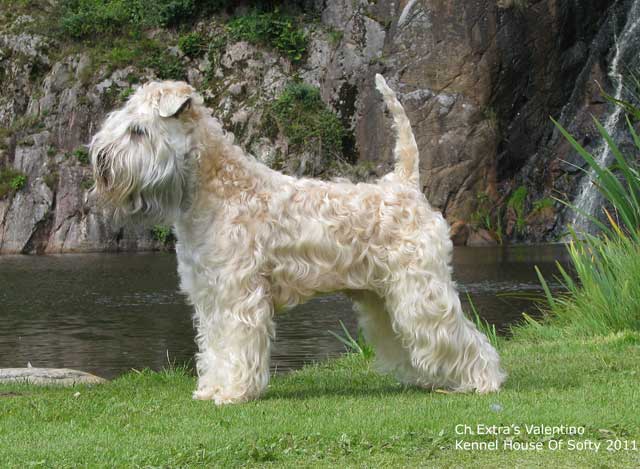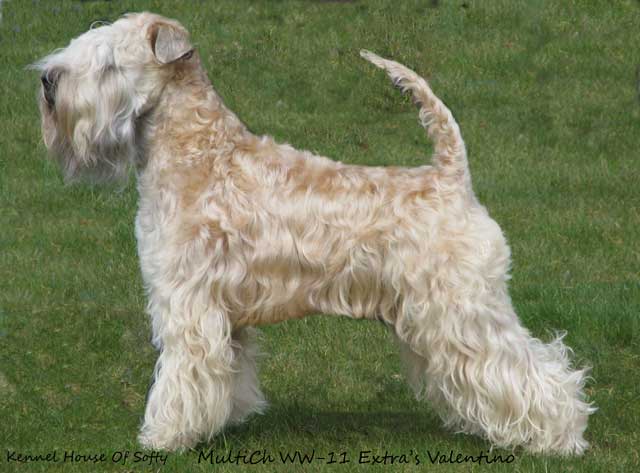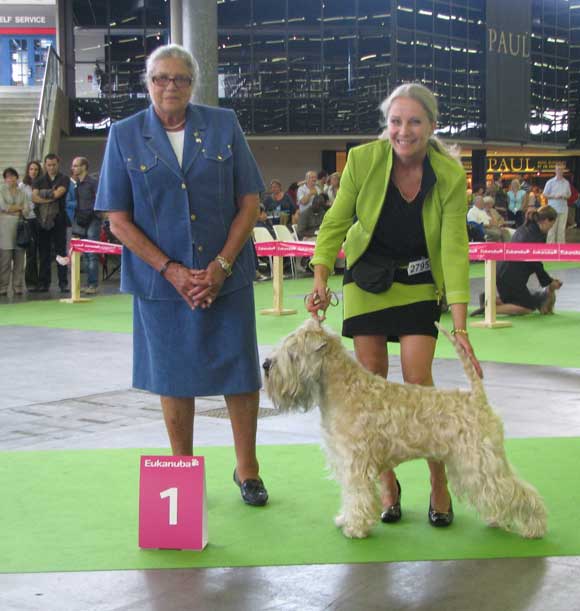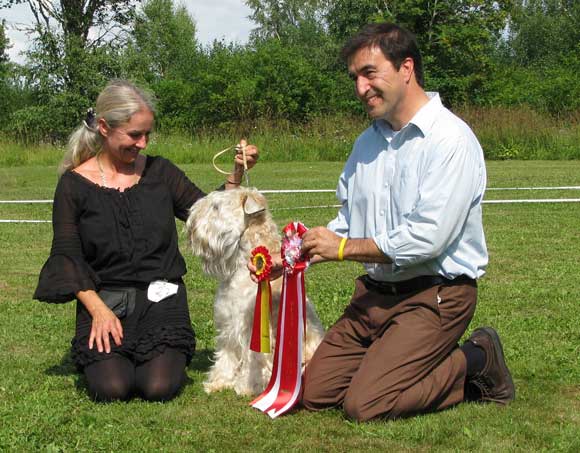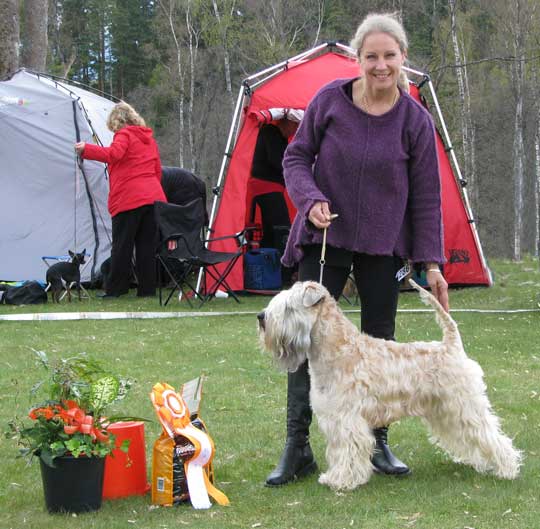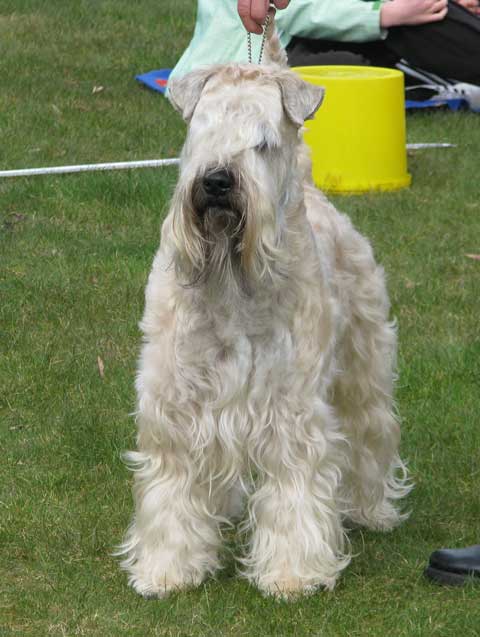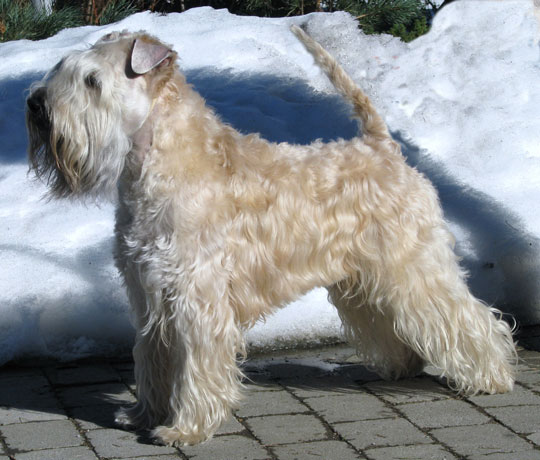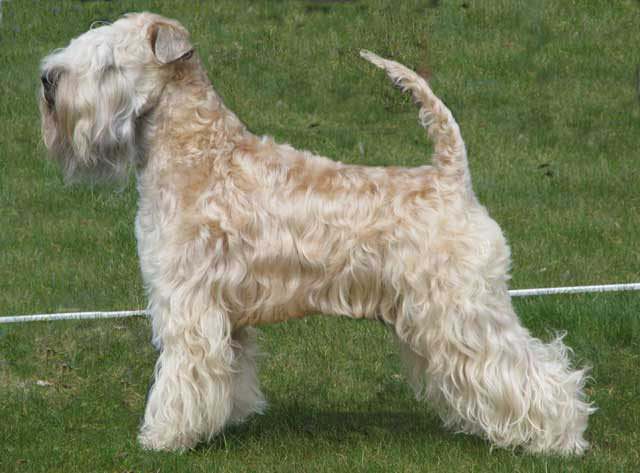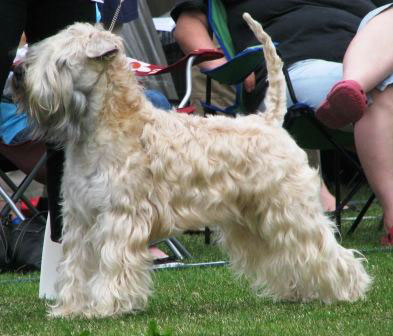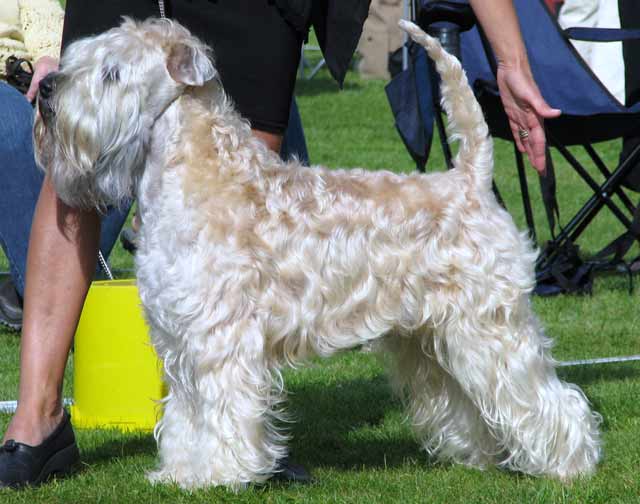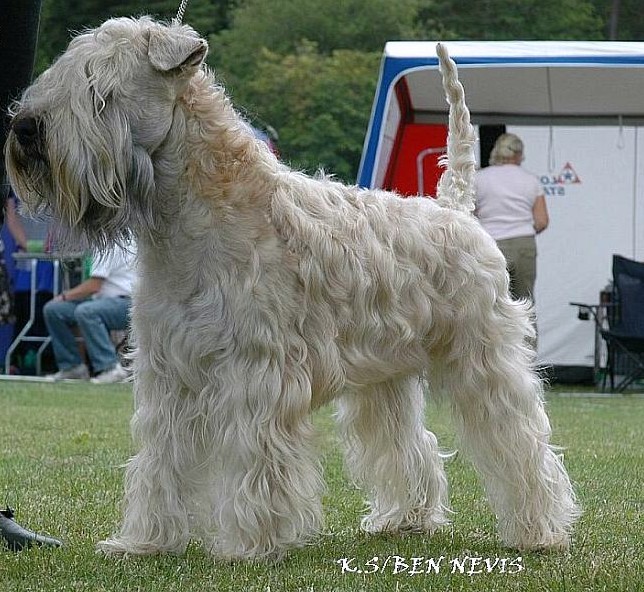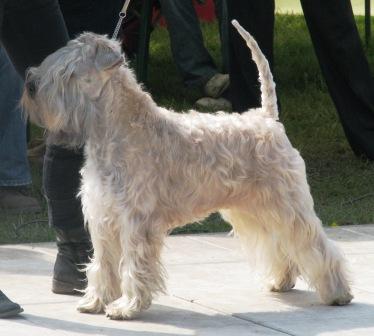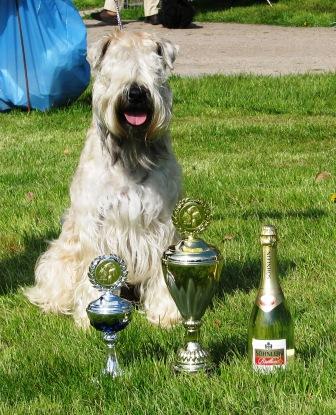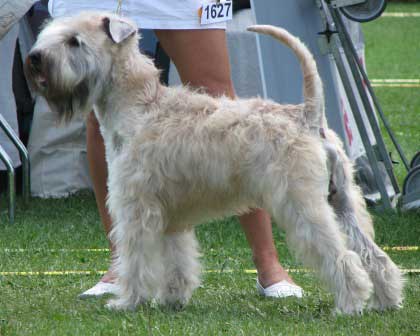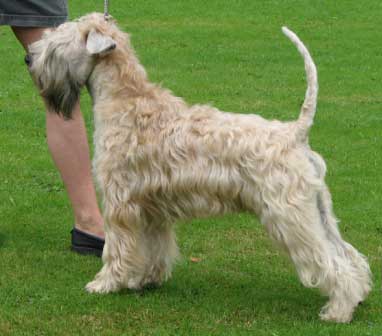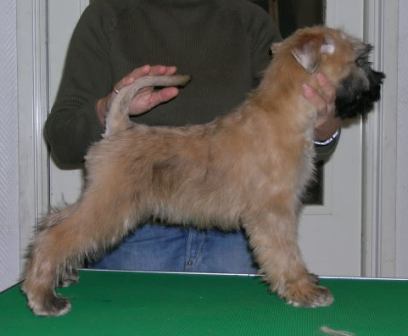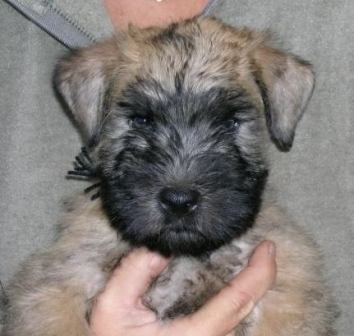 Guillermo Rueda, USA
Bergslagswheaten Jul 23 2011 Wheaten speciality show
At the end of the day, the standout for BOB was clearly the top placement from the champion dog class, CH Extra's Valentino. I LOVED seeing this six-year-old male in prime condition, a dog any one of us should hope to breed.
Elegant in his masculinity, he is a confluence of virtues without exaggeration. Beautiful in proportion and balance, he stands proudly over his front and shows his terrier-ness with beautiful expression and tail.


Margaret Gray, AUS
Påryd Feb 13 2010 Wheaten speciality show
This mature male is a beautifully balance dog with good coat and excellent depht of chest. His sounds construction provides strong sustained movement which complimented his game terrier temperament. His beautiful rectangular head was full of expression and strong in all aspects. His ring presence and terrier spirit shone through every time he entered the ring.